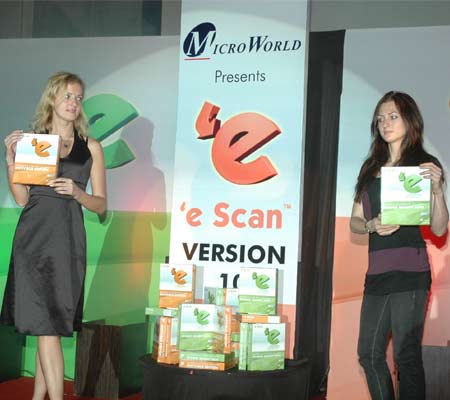 HOT..HOT ANTIVIRUS NOW... SOME SAY IT LEVEL WITH HIS BRO...KASPERSKY ..
I SAY YES..READ IT!!

MicroWorld, the leading AntiVirus and Content Security solution provider, has been awarded VB100% certification for its soon to be released product, eScan Version 10 from Virus Bulletin, a leading UK based malware & spam prevention, detection and removal magazine.
Winning the VB100% certification for the 17th time has proved MicroWorld's consistency in detection and removal of all kinds of malware. The continual VB100% certifications makes eScan Version 10 a part of the prestigious circle of Anti-Virus solutions that have managed to detect 100% of the viruses in the wild, without any false alarms time and again. eScan Version 10 withstood the rigorous testing methodologies of VB100% and had a 100% detection record in all malware categories with no false positives.
Speaking on the occasion Mr. Govind Rammurthy, Managing Director & Chief Executive Officer, MicroWorld, said, "At MicroWorld, our products are specially designed keeping in mind the security requirements of our customers. By winning this prestigious certification for the 17th time, eScan Version 10 has proved the consistency of our product excellence, thereby, creating a new level of perfection for the industry to follow."
Mr. Sunil Kripalani, Vice President, Global Sales & Marketing, MicroWorld, said, "We, as a company, believe in giving 100% to our customers and we do this by providing 100% quality in all our products. Repeated international recognition of this nature fuels our enthusiasm and reinforces our quality commitment. We strive to create new industry benchmarks in terms of quality and perfection and will continue to do so through our latest innovations."
The VB100% award is designed to test a product's capabilities to detect all current in-the-wild threats on the platform under test, with no false positives detected and to scan the speed of the product under test. Due to their use of rigorous testing methods VB100% has become the de facto standard in the industry for measuring the quality of an antivirus solution. Products which detect all the viruses in-the-wild, without false alarm, are given the VB100% certificate.
The stringent product testing methods combined with Virus Bulletin's commitment to reporting performances exactly as they are found makes the VB100% a coveted award, vendors strive to achieve. By virtue of winning this certification, eScan is now nominated for this prestigious award for the 17th time. The awards will be announced on the 19th Virus Bulletin International Conference (VB2009), which will be held on 23-25 September 2009 in Geneva, Switzerland.
So its true..
The products have been released ONLY for XP, Vista & Windows 7 (beta). It will support upgrades from all earlier supported eScan versions - but as always (considering the number of builds, hotfixes and upgrades present out there), we will recommend that you uninstall any earlier versions and then install the new one.

Link for ISS[internet security]
http://download1.mwti.net/download/escan/escan10/iwn2k3ek.exe
ftp://ftp.microworldsystems.com/download/escan/es_iwne.exe
ftp://ftp.microworldsystems.com/download/escan/es2k3e/iwn2k3e.exe
http://update6.mwti.net/download/escan/escan10/iwn2k3ek.exe

Link for AV
http://download1.mwti.net/download/escan/escan10/awn2k3ek.exe
ftp://ftp.microworldsystems.com/download/escan/es_awne.exe
ftp://ftp.microworldsystems.com/download/escan/es2k3e/awn2k3e.exe
http://update6.mwti.net/download/escan/escan10/awn2k3ek.exe